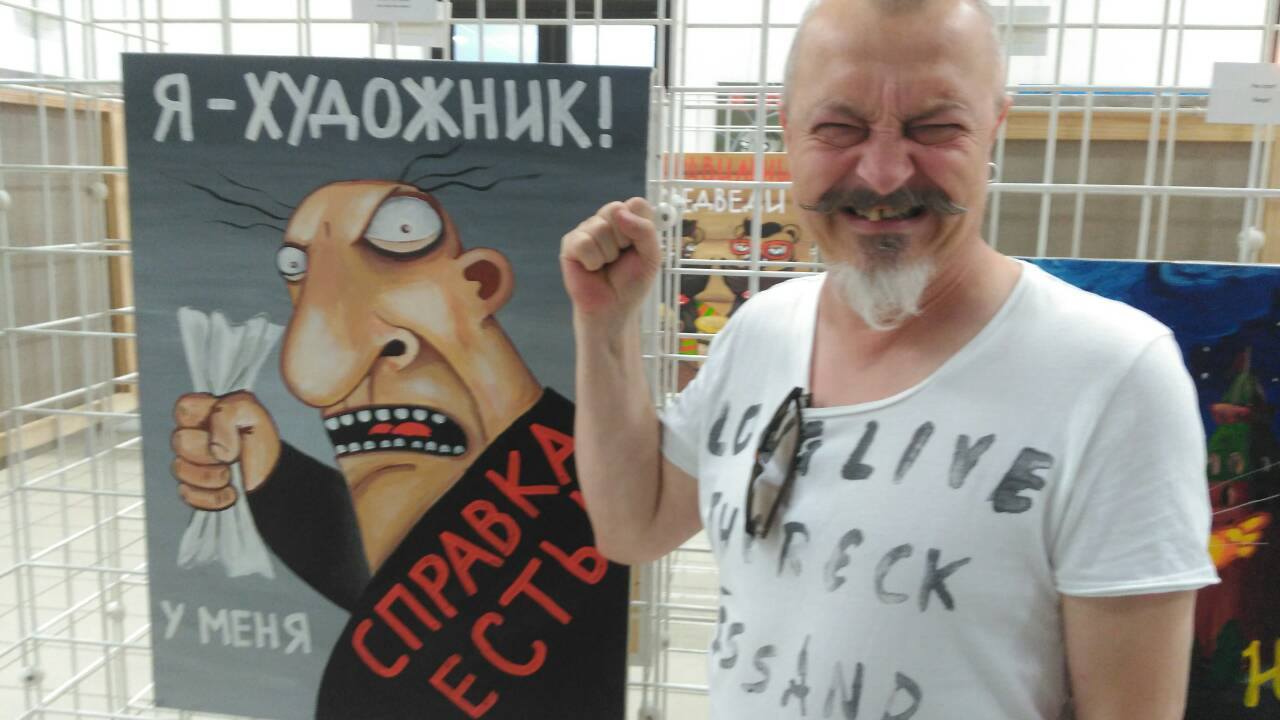 Biography
Igor Andrianov (date of birth – 29th of February, 1959) is better known as Shulman, the trade mark name with which he signs his artwork. He has exhibited in over 30 art shows. Russia, Czech, Sweden, France, and Holland are but a few of the countries his art works have been featured in galleries and exhibitions. His art is fond in, galleries, homes and offices in over 50 countries including Great Britain, Spain, Germany, USA, Canada, Italy, France, Belgium, Russia, Ukraine, Hungary, Australia, Austria, England, China, Japan, Bahrain, Mexico, New Zealand, Brazil, Costa Rica, and Czech.
Born on the banks of the Volga River in Russia's oldest town Kalinin (now Tver) in 1959. He graduated from the Art College, Venezianov.
The passion of life expresses itself though out his art. His life experiences of working as a dock hand, seaman, builder, truck driver, businessman all have influences on his artistic view point.
He has resided in Prague with his family for the last several years. He views Prague as the most inspirational city in Europe for artists.
Outstanding Russian painter Igor Shulman is Eastern Europe's most highly-acclaimed living figurative artist. He creates figurative works that portray figures from contemporary life in everyday scenarios.
What Igor says. All my life is creativity. Even in dream I draw the new pictures, I find new decisions, I think out a new reality.

It is difficult for me to prefer what either style or a direction. That is difficult to stop on what genre. All is interesting to me. In art for me there are no unknown zones or the closed doors. I can draw, paint or project, but from all I receive pleasure because that I do all, I do with all the heart.

I cannot live without my creativity of any day.
Education
Andrianov Igor (Shulman) received his art education at Venetsianov Art College. After the termination (Interior designer) regular participant huge art exhibitions as regional and republican level. His works are in museums, galleries and private collections almost worldwide.
Varying Styles
Creativity is key for Shulman, who enjoys exploring a range of subject matter and styles in his paintings. He is inspired by a range of art movements and takes fragments from many in order to create something new and entirely unique to him. In many of his works, he paints a bold colourful background that empties the scene of context in order to focus our attention on the figure.
Figurative painting
Contemporary Art
Modern Art
NUDE
Portrait
Traditional Tendencies
Shulman often works in a classical painterly style and states that his works are aimed at a more traditional audience. He takes inspiration from the school of realism, painting figures from everyday life in a highly realistic style yet he plays with boundaries, bringing innovation and creativity to his paintings.
International Exhibitions
Shulman has works in galleries, museums and private collections across the world. He has exhibited extensively across Russia and Prague and further afield in cities such as Dublin, London and New York. Shulman has presented his work in a number of international art fairs such as the Edinburgh Art Fair in 2016.
2014
London Art Fair. Spring, Autumn collection by Gallery "Le Sians", London, UK
Personal Exibition "Yellow Gallery", Zelezna 8, Prague, CZ
Exhibition "M.Nicole gallery", Moscow, Russia
Exibition "Passaz Gallery", Nerudova 32, Prague, CZ
Exibition "Gallery Michalska", Michalska 28, Prague, CZ
2013
London Art Fair. Spring, autumn collection. by Gallery "Le Sians", London, UK
Exhibition "M.Nicole gallery", Moscow, Russia
Exibition "Passaz Gallery", Nerudova 32, Prague, CZ
Exibition "U Art Gallery", Jlska 43, Prague, CZ
Exibition "Gallery Michalska", Michalska 28, Prague, CZ
2012
London Art Fair. Spring, autumn collection. by Gallery "Le Sians", London, UK
Solo exibition "Yellow Gallery", Zelezna 8, Prague, CZ
Exhibition "M.Nicole gallery", Moscow, Russia
Exibition "Passaz Gallery", Nerudova 32, Prague, CZ
Exibition "U Art Gallery", Jlska 43, Prague, CZ
Exibition "Gallery Michalska", Michalska 28, Prague, CZ
2011
London Art Fair. Spring, autumn collection. by Gallery "Le Sians", London, UK
Solo exibition "Yellow Gallery", Zelezna 8, Prague, CZ
Exhibition "M.Nicole gallery", Moscow, Russia
Exibition "Passaz Gallery", Nerudova 32, Prague, CZ
Exibition "U Art Gallery", Jlska 43, Prague, CZ
Exibition "Gallery Michalska", Michalska 28, Prague, CZ
2010
Solo Exhibition Dum Radio, Bratislava, Slovakia
Solo Exhibition "Yellow Gallery", Prague, CZ
Art Kiev 2010 (Gallery "O'Art"), Kiev, Ukraine
2009
Exibition of Russian Art, Melburne, Australie
Art Salon "Manes", Moscow, Russia
Art Ireland 2009, Dublin, Ireland
Solo Exibition Central House of Artist, Moscow, Russia
Duet Exibition "Alfon de elle" Gallery, Knake, Belgium
Solo Exibition foundation of culture moscow, russia
Solo Exibition Club Belle, Prague, CZ
2008
Affordable Art fair Paris, France
Affordable Art fair NY, USA
Solo Exibition "Gallery M", Moscow, Russia
Solo Exibition "Kings Gallery", Moscow, Russia
Solo Exibition Central House of Artist, Moscow, Russia
Solo Exibition "Art Club", Moscow, Russia
Art Salon "Manes", Moscow, Russia
2007
Solo exibition "Space of Color", Russian Embassy, Prague, CZ
Salon de Endependants (Spring), Paris, France
Art Ireland 2007 (Spring, Outumn), Dublin, Ireland
Solo Exibition "Gallery u Dominikana", Prague, CZ
Solo Exibition "Yellow Gallery", Prague, CZ
Solo Exibition "Le siants Gallery", Prague, CZ
2006
Art Ireland 2006 (Spring, Outumn), Dublin, Ireland
Solo Exibition "Crazy cow Gallery", Prague, CZ
Solo Exibition "Zelezna Gallery", Prague, CZ