Emergo Art Magazine Issue IV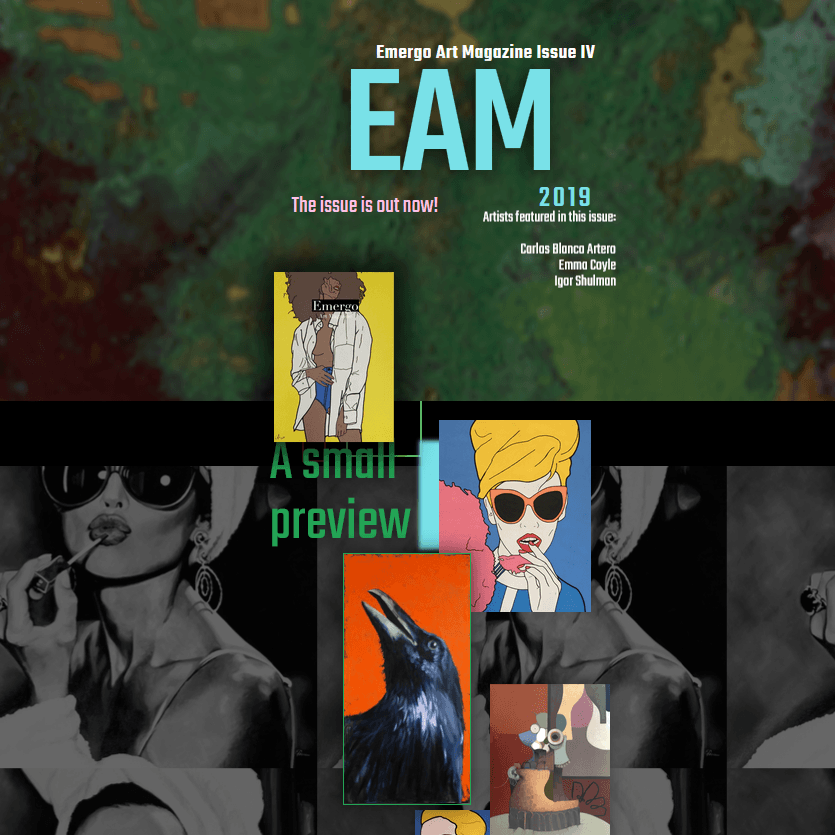 Emergo Art Magazine, Issue number four, 2019
Emergo Art Magazine is published once every two months, however the issues don't "age", as the art in this magazine will be as relevant as the art in the next one.
Featured artists:
Carlos Blanco Artero
Emma Coyle
Igor Shulman
Dear readers of Emergo Art Magazine,
My name is Dennis Mollemans, and I am (or was) the creator of Emergo Art.
Ever since I was a small kid I used to love art, design, and entrepreneurship.
And so at age 15, I finally started, very small, and very unsuccessful.
I don't come from a family with a lot of money, and so I've had to work for everything. After my first tiny business (fixing up small motorcycles) I had started a new business, which again, failed. After that I started working for a proprietary trading firm. I got the job because, quite simply, I didn't accept no for an answer. Doing that for almost two years I learned a lot, not only about the financial industry, but also that I did not find any pleasure in stock trading.
I traded well, but I felt that there was something missing in my life.
That was Emergo Art. I wanted to have my own business again, and I wanted to have a business in an area that I loved. I've spent countless hours working on business plans, the website
(which I had to re-build from the ground up twice) and of course looking for great artists. And I have to say that I found some.
Every single artist that I've featured, or even contacted had something special.
And it's been an amazing, but short ride. Because now it might have to come to an end. I have spent a lot of time thinking about whether what I'm doing is a good idea.
You have to realize, that I talked my way into that proprietary trading firm when I was only 17 and still in middle school. Once I finished middle school, I immediately started working there because it was a great opportunity to get to see a whole different industry.
This means that I don't have a degree, which on it's own I don't see as a problem, but after a lot of nights laying awake thinking about my decisions and paths, I have come to the following conclusion.
I am an entrepreneur at heart, and there is nothing that I love more. But I'm 19 years old. I only have 4 years of experience as either an entrepreneur or full time employee. And more than that, I only have 19 years of life experience. On top of that, neither I nor my family have a couple of thousand euros I can just invest like it's nothing.
In conclusion: at this point in time, it's probably the smartest idea to go to university, get a bachelor's and start gaining some experience with larger businesses.
Emergo Art will go away, however sad that might make me.
I would like to thank each, and every one of the artists I've featured, and every single person that has ever supported Emergo by buying an issue. I wish everyone the very best of luck and success in their careers, and I'm sure that one day, you'll hear from me again.
Printed version:
https://www.emergoart.com/2019/07/02/emergo-art-magazine-issue-iv-out-now
Regular price: €17.99
Discounted price with the promo code EAMARTIST: €14.99