Fucking Winter
$3,850.00 / Sold Out
Fucking Winter (2021) Oil Painting by Igor Shulman
Size: 100 x 90 x 5 cm (unframed) / 100 x 90 cm (actual image size)
Size: 39.37 x 35.43 x 1.97 in
Style: Impressionistic
Subject: People and portraits
Technique: Oil on Canvas
Framing details: Artwork rolled and sent in a tube, stretching and framing available on request
Out of stock
Description
This is another picture which belongs to the series «Photos» from the trash can. I personally know a couple of people, who really love winter. I guess their winter (mountains, sun, skiing, blinding white and outrageous romance) is a little different from my fucking winter. This winter also exists and I'm aware of it.
This picture is about another winter in a European city.
Imagine that you've not even woken up, but are already so tired, that you cannot move.
Imagine that you constantly want to get yourself drunk over and over again, so that you don't see it and don't live in it.
What you see is an exact image of our harsh winter, continued slush and haze, wet and slippery fog, filling with itself everything around. Once the lunch is over, the nightfall begins, which is always accompanied either with snow or rain, and — in all cases — this piercing fucking wind, which sometimes can get one completely mad.
My winter contains no other colors than 1500 shades of gray.
I'd like to reveal that life is always going on, during all of the seasons, even such disgusting ones. People continue moving and living, no matter what is happening right now.
That is because everyone knows that the sun will certainly rise tomorrow again.
Customer Feedback
We just purchased your painting, "Fucking Winter." My wife, Janet, and I really love your work. Each painting seems to have a story behind it. You have a unique perspective and incredible talent that moves us. We are so excited! We particularly like your retro works.
I am so happy we've discovered you and your work. You have filled us with happiness. Thank you!
Andy and Janet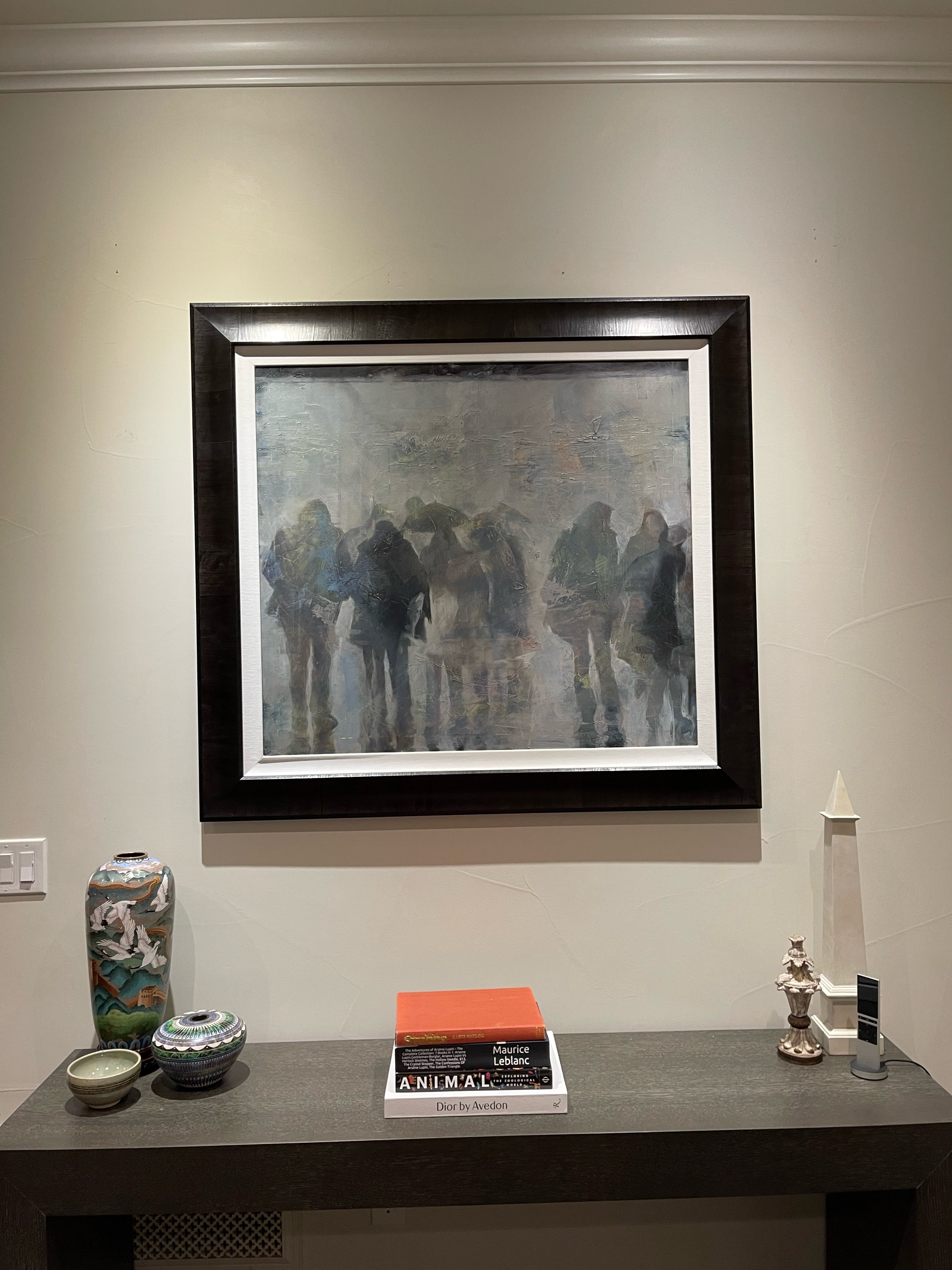 Additional information
| | |
| --- | --- |
| Creation Year | 2021 |
| Styles | Impressionistic |
| Subjects | People and portraits |