The Degree of Trust
$2,500.00
Oil Painting The Degree of Trust (2022) by Igor Shulman
Size: 23.5 W x 23.5 H x 2 D in / 60 x 60 cm x 5 cm
Style: Impressionistic
Subject: People and portraits
Technique: Oil on Canvas
Framing details: Artwork rolled and sent in a tube, stretching and framing available on request
In stock
Description
Anyone who has an animal at home knows what I mean. As the degree of trust between you and your pet constantly grows, it comes to such a level that you feel as if you were together as one being. Barriers completely disappear as everything is being allowed to each other. That's so sweet!
There could be another option for pet owners. That is when each of you continues to live your own life. Very few people are interested in it.
The Degree of Trust Oil Painting in Interiors
How this painting can look like in various Interiors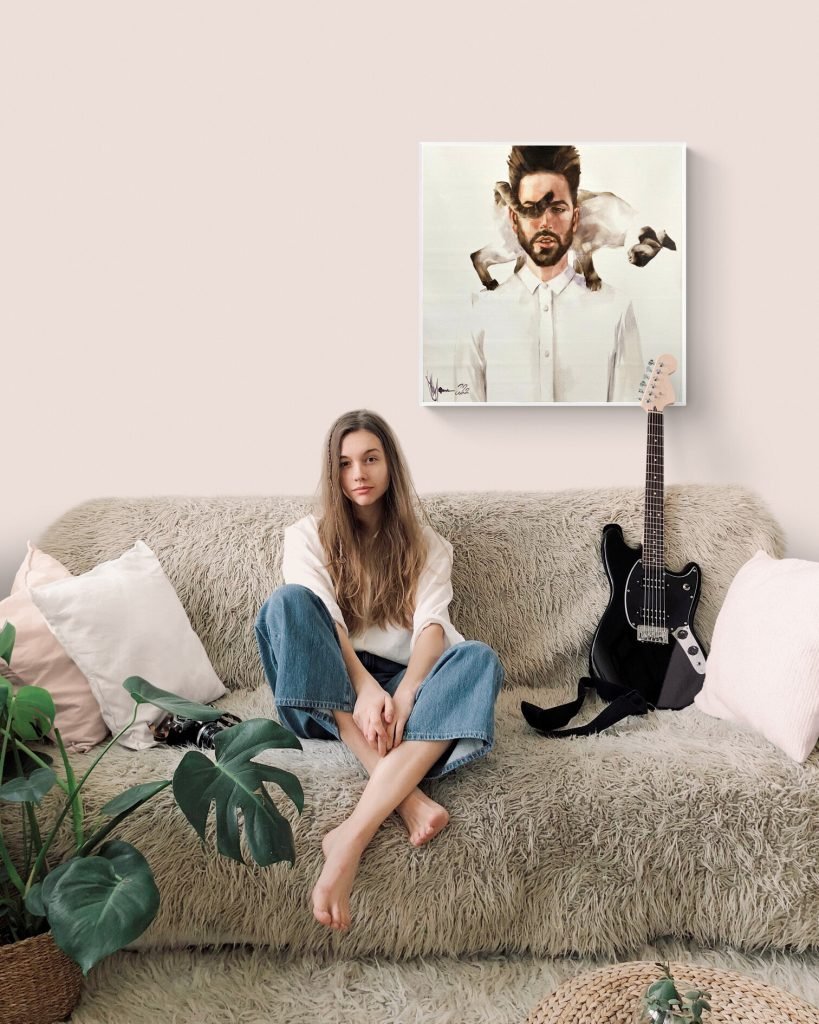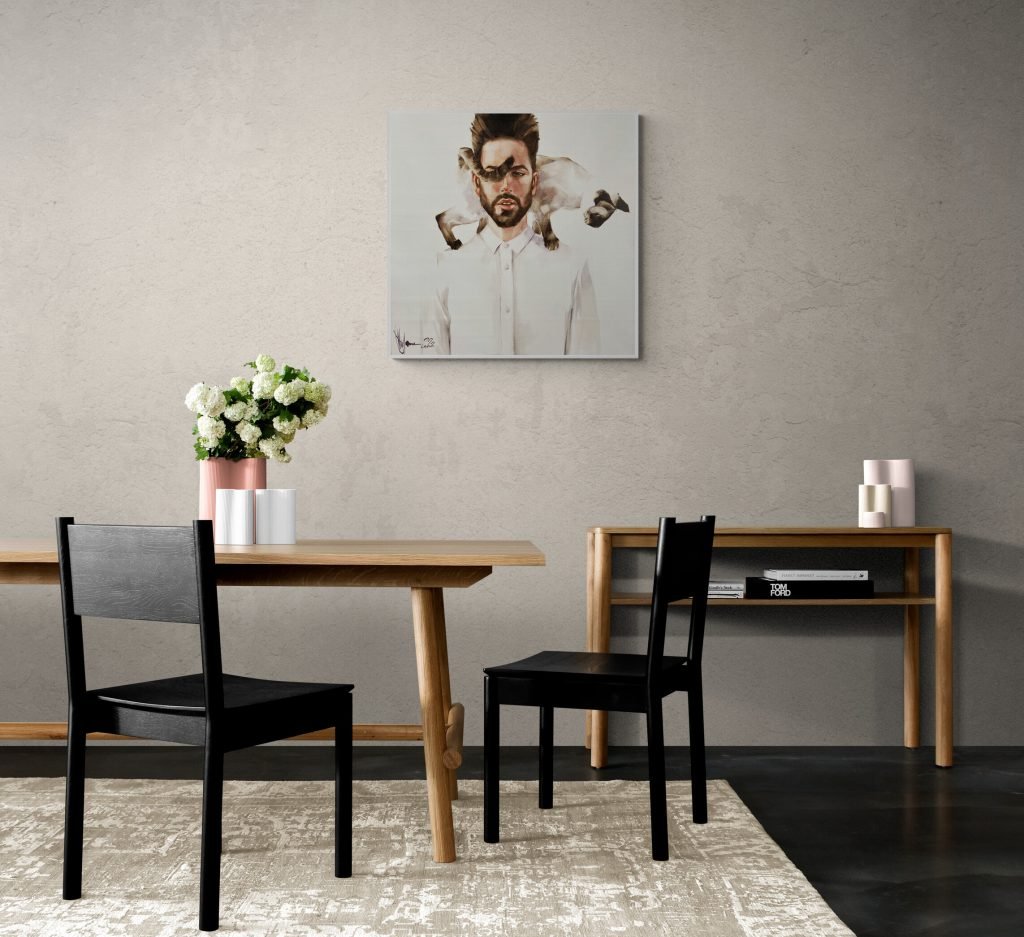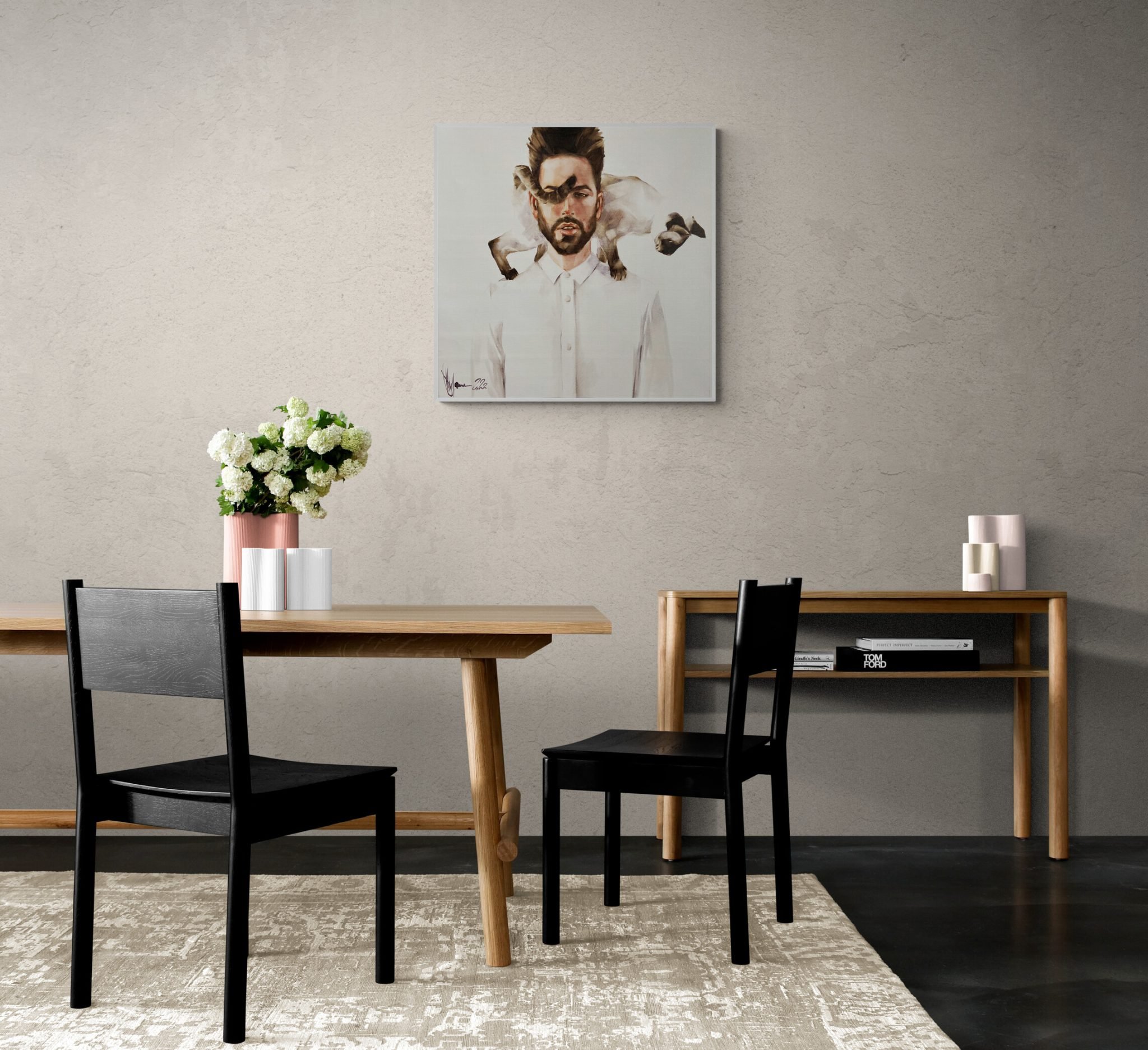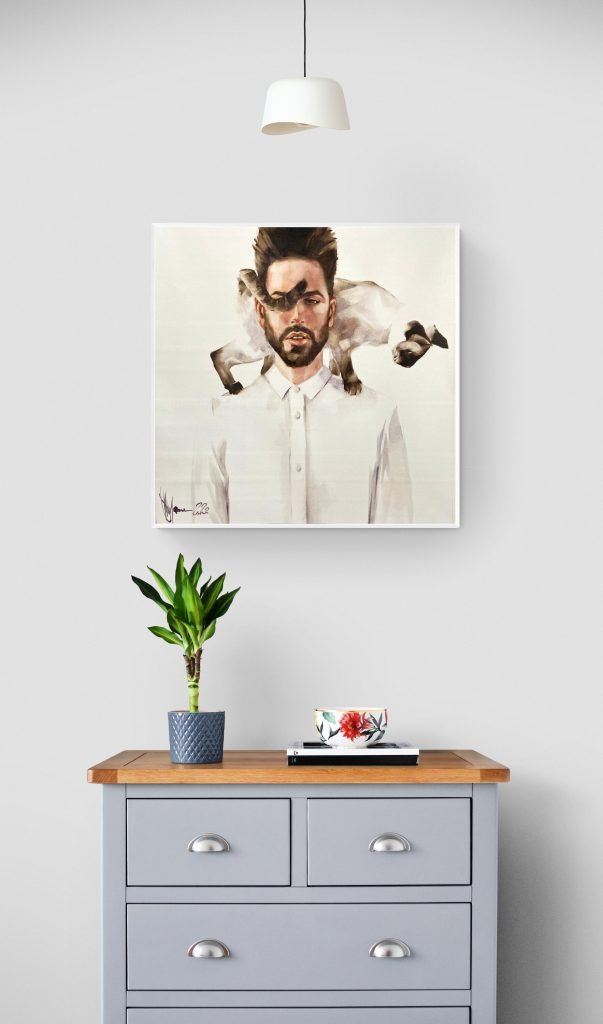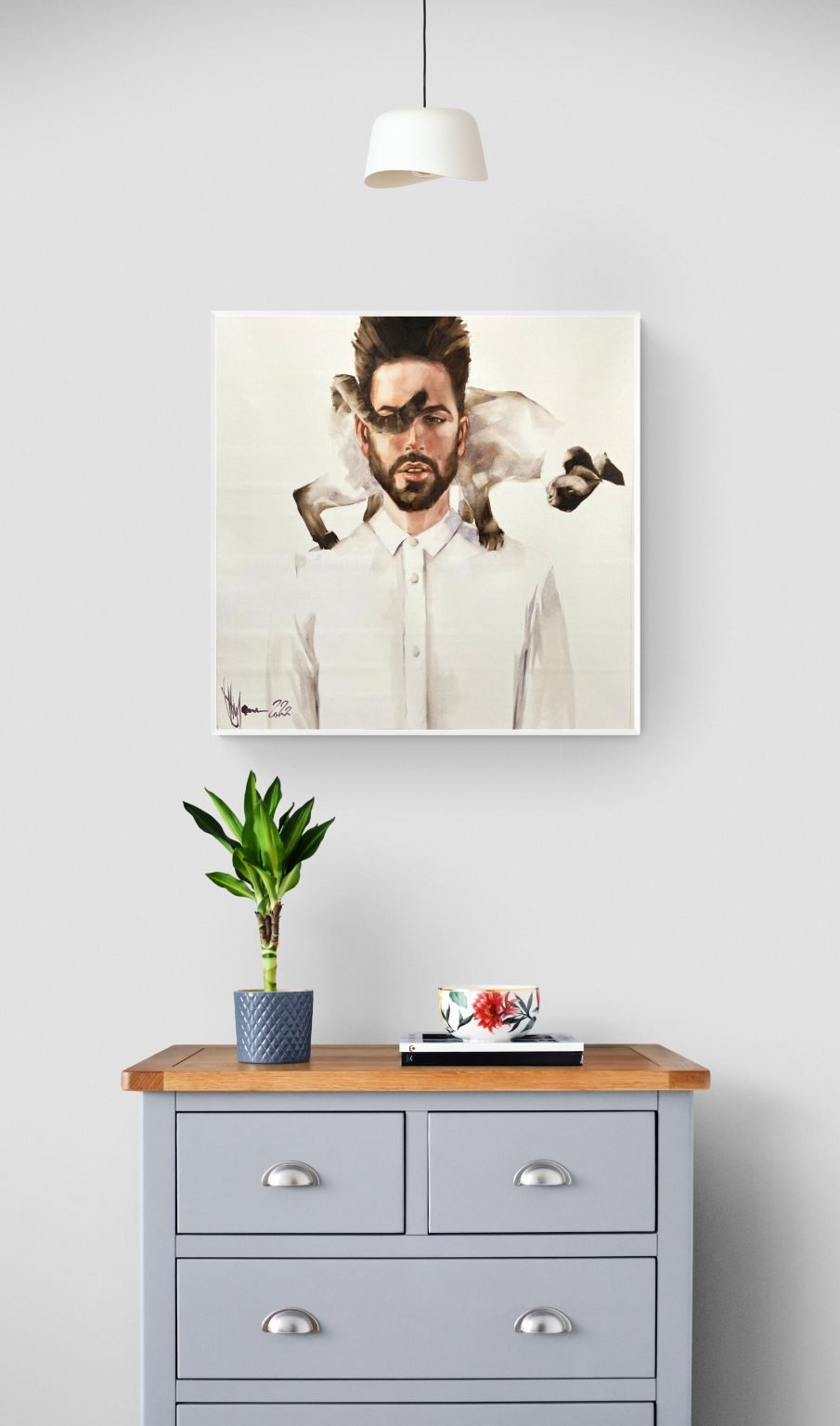 FAQ
About this painting

I painted this picture, like all my other paintings using completely traditional methods. With the help of oil paints, canvas and his hands. Everything is absolutely traditional and natural. I have been doing this work for more than 30 years and doing quality. This applies not only to the manufacture, but also to the packaging of finished paintings. Even with poor delivery, my packages reach the buyer safe and sound.
Delivery

This artwork will be packaged in a tube. Artworks are dispatched within 5 working days from Czechia. Each painting is accompanied by a certificate of origin, which I write out with my own hand.
Make an offer on this artwork

Just email me
Additional information
| | |
| --- | --- |
| Creation Year | 2022 |
| Styles | Impressionistic |
| Subjects | People and portraits |
Beschreibung des Ölgemäldes
Jeder, der ein Tier zu Hause hat, weiß, was ich meine. Der Grad des Vertrauens zwischen Ihnen und Ihrem Haustier wächst ständig und erreicht ein solches Ausmaß, dass Sie sich fühlen, als wären Sie zusammen wie ein einziges Wesen. Barrieren verschwinden völlig, weil man sich alles gegenseitig erlaubt. Das ist so süß!
Es gibt noch eine andere Möglichkeit für Haustierbesitzer. Das ist, wenn jeder von euch sein eigenes Leben weiterlebt. Daran sind nur sehr wenige Menschen interessiert.
Description de la peinture à l'huile
Tous ceux qui ont un animal à la maison savent ce que je veux dire. Au fur et à mesure que le degré de confiance entre vous et votre animal augmente, il atteint un tel niveau que vous avez l'impression d'être ensemble comme un seul être. Les barrières disparaissent complètement car tout est permis à l'autre. C'est trop mignon !
Il pourrait y avoir une autre option pour les propriétaires d'animaux. C'est quand chacun de vous continue à vivre sa propre vie. Très peu de gens sont intéressés par ça.
Descrizione del dipinto ad olio
Chiunque abbia un animale in casa sa cosa intendo. Man mano che il grado di fiducia tra voi e il vostro animale cresce costantemente, arriva a un livello tale che vi sentite come se foste insieme come un unico essere. Le barriere scompaiono completamente perché tutto è permesso l'uno all'altro. È così dolce!
Ci potrebbe essere un'altra opzione per i proprietari di animali domestici. È quando ognuno di voi continua a vivere la propria vita. Pochissime persone sono interessate a questo.
この油絵の説明
動物を飼っている人ならわかると思います。ペットとの信頼関係が常に深まっていくと、まるで一緒にいるかのような一体感を感じることができます。垣根がなくなり、すべてが許されるようになるのです。それはとても素敵なことです。
飼い主さんにはもうひとつの選択肢があります。それは、それぞれが自分の人生を歩み続けることです。それに興味を持つ人はほとんどいません。
이 유화에 대한 설명
집에 동물이 있는 사람이라면 무슨 말인지 알 것입니다. 당신과 당신의 애완 동물 사이의 신뢰의 정도가 지속적으로 증가함에 따라, 당신이 하나의 존재처럼 함께 느끼는 수준에 도달합니다. 모든 것이 서로에게 허용되면서 장벽이 완전히 사라집니다. 그건 정말 달콤 해! 애완 동물 소유자를 위한 또 다른 옵션이 있을 수 있습니다. 그것은 각자가 계속해서 자신의 삶을 사는 때입니다. 그것에 관심이 있는 사람은 거의 없습니다.
这幅油画的描述
任何在家里养动物的人都知道我的意思。随着你和你的宠物之间的信任程度不断提高,它达到了这样一个水平,你觉得你们就像一个人一样在一起。障碍完全消失,因为一切都被允许给对方。这真是太甜蜜了!
对于宠物主人来说,可能还有另一种选择。那就是你们每个人继续过自己的生活。很少有人对它感兴趣。
這幅油畫的描述
家裡養過動物的人都懂我的意思。隨著您和您的寵物之間的信任程度不斷提高,它會達到這樣一個水平,您會覺得自己就像一個人在一起。障礙完全消失,因為一切都相互允許。太甜了!寵物主人可能還有另一種選擇。那是你們每個人繼續過自己的生活的時候。很少有人對此感興趣。