The Degree of Trust
$2,500.00
Oil Painting The Degree of Trust (2022) by Igor Shulman
Size: 23.5 W x 23.5 H x 2 D in / 60 x 60 cm x 5 cm
Style: Impressionistic
Subject: People and portraits
Technique: Oil on Canvas
Framing details: Artwork rolled and sent in a tube, stretching and framing available on request
In stock
Description
Anyone who has an animal at home knows what I mean. As the degree of trust between you and your pet constantly grows, it comes to such a level that you feel as if you were together as one being. Barriers completely disappear as everything is being allowed to each other. That's so sweet!
There could be another option for pet owners. That is when each of you continues to live your own life. Very few people are interested in it.
The Degree of Trust Oil Painting in Interiors
How this painting can look like in various Interiors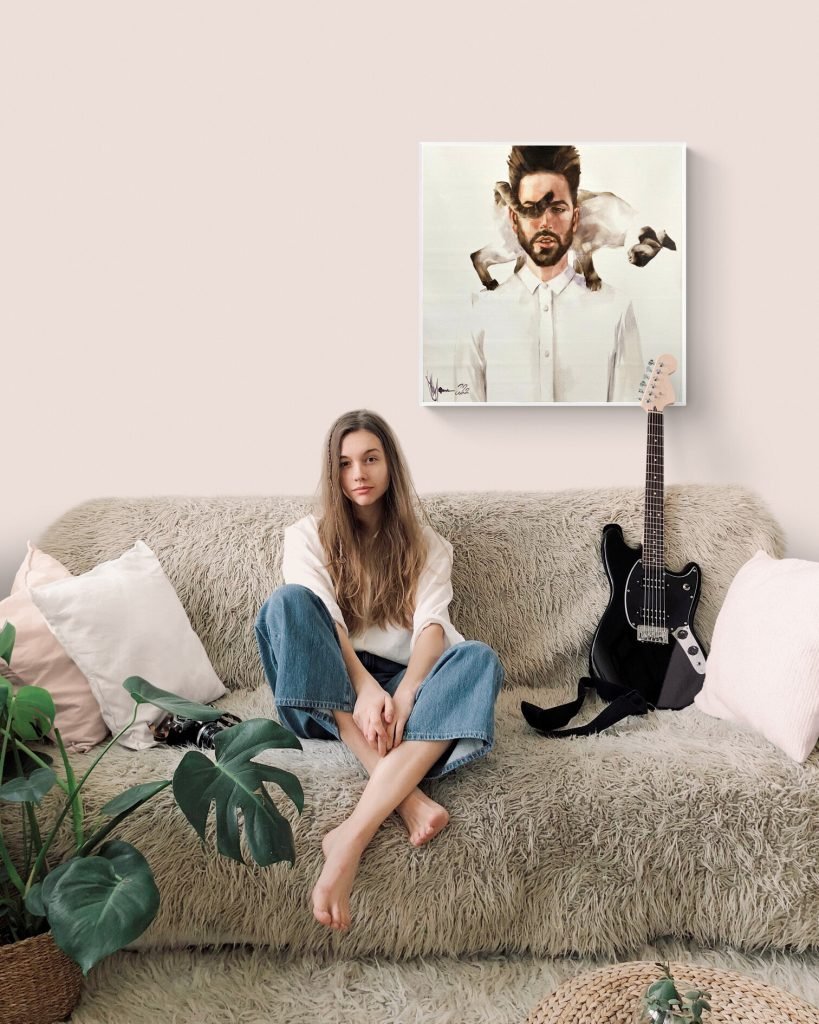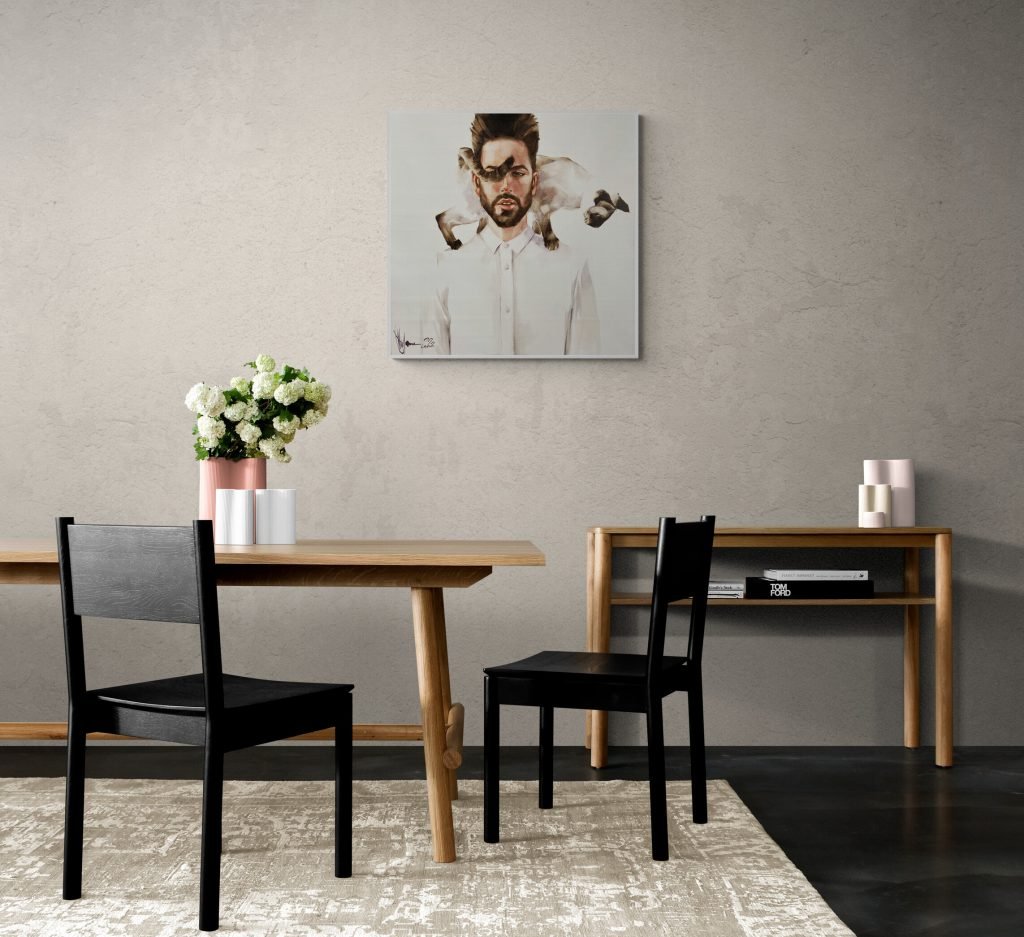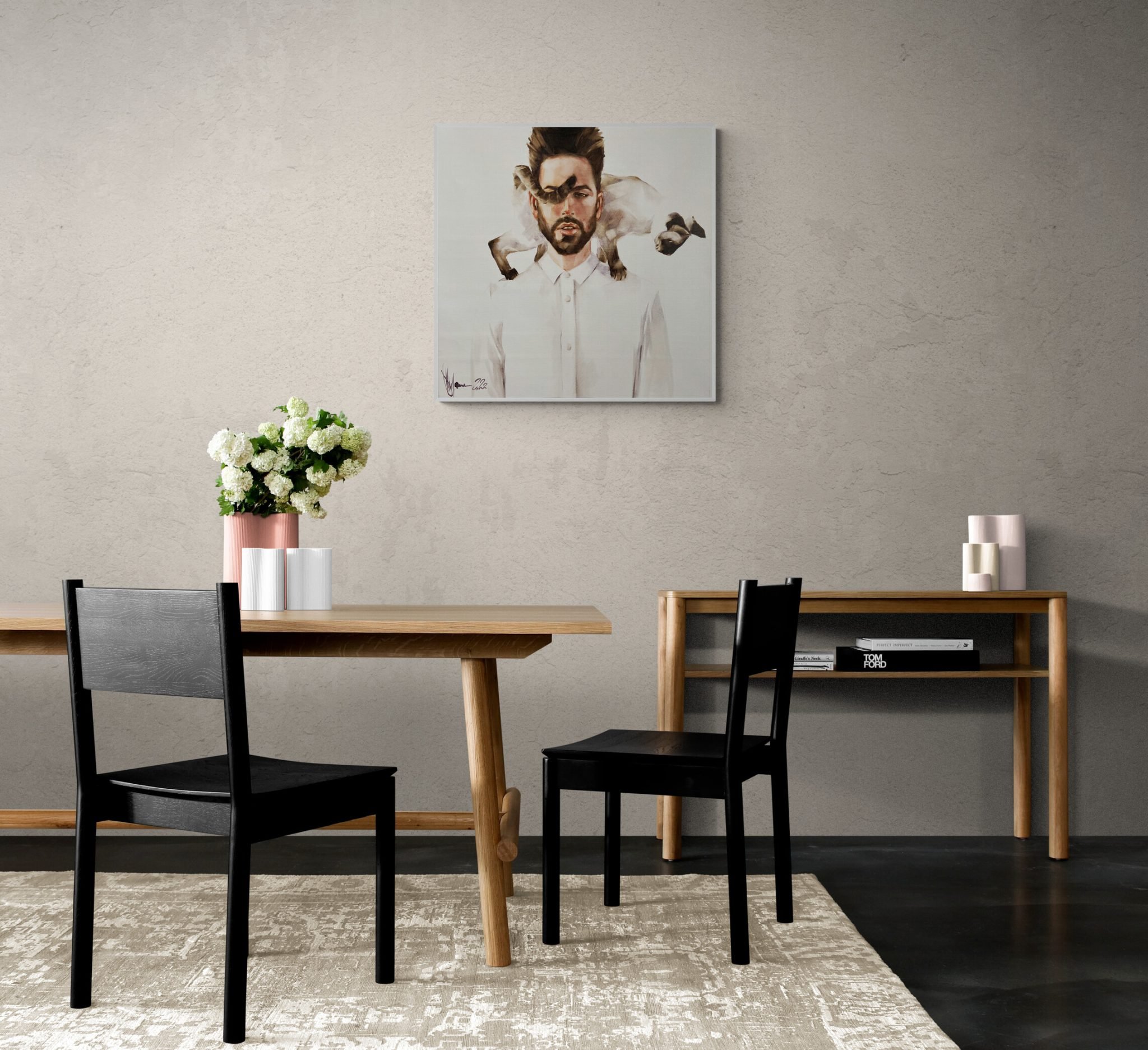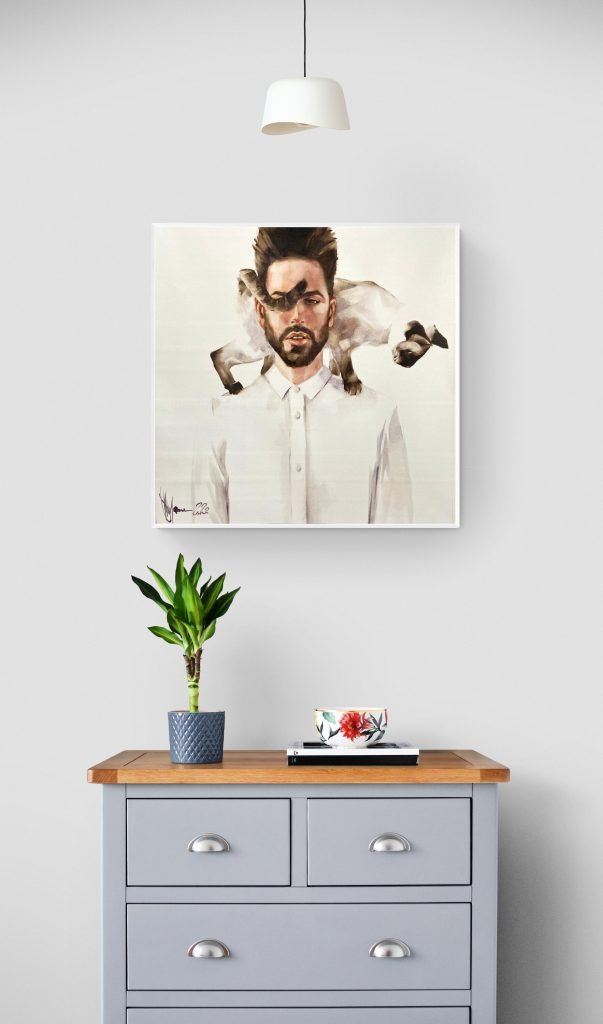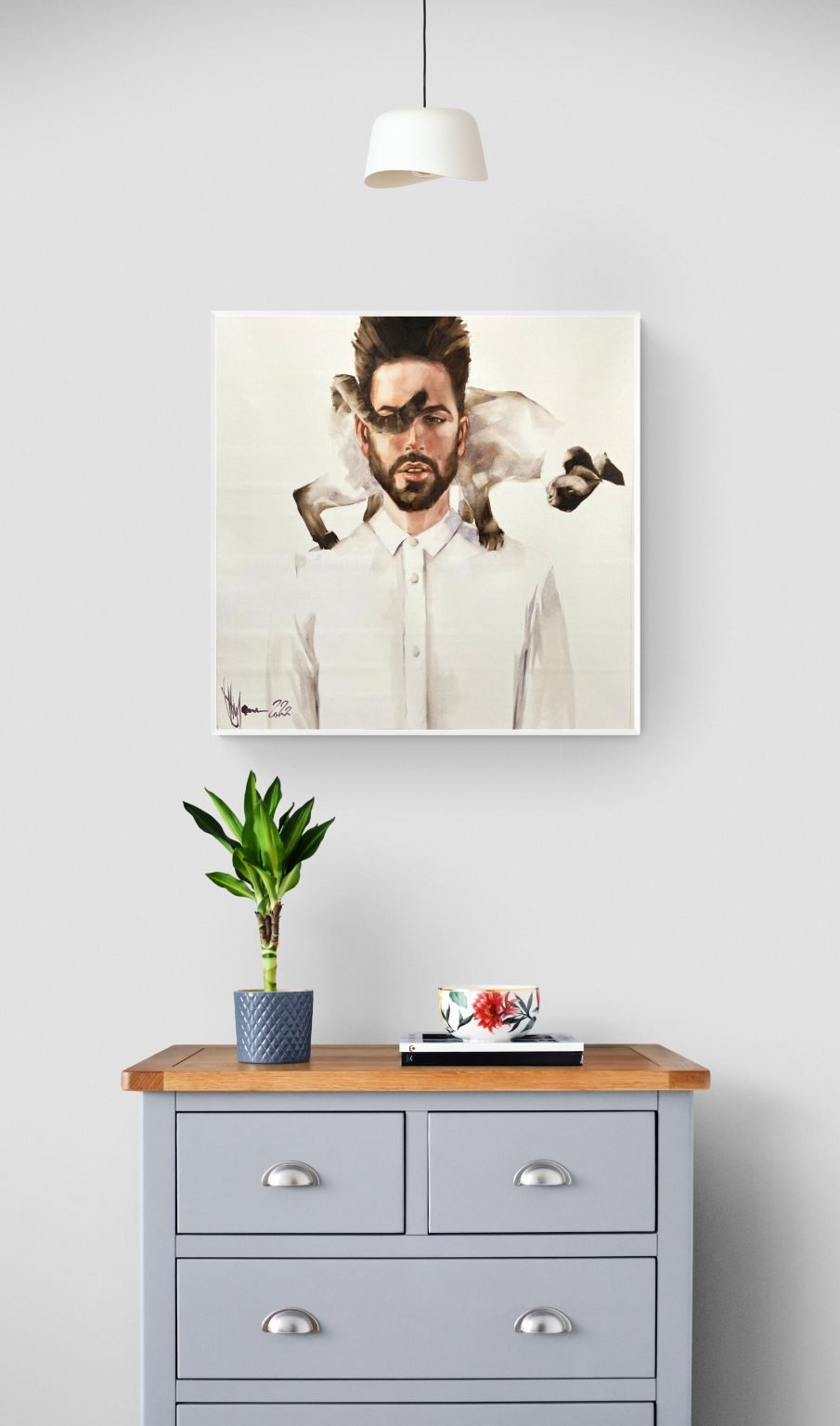 FAQ
About this painting

I painted this picture, like all my other paintings using completely traditional methods. With the help of oil paints, canvas and his hands. Everything is absolutely traditional and natural. I have been doing this work for more than 30 years and doing quality. This applies not only to the manufacture, but also to the packaging of finished paintings. Even with poor delivery, my packages reach the buyer safe and sound.
Delivery

This artwork will be packaged in a tube. Artworks are dispatched within 5 working days from Czechia. Each painting is accompanied by a certificate of origin, which I write out with my own hand.
Make an offer on this artwork

Just email me
Additional information
| | |
| --- | --- |
| Creation Year | 2022 |
| Styles | Impressionistic |
| Subjects | People and portraits |
Beschreibung des Ölgemäldes
Beschreibung des Ölgemäldes
Jeder, der ein Tier zu Hause hat, weiß, was ich meine. Der Grad des Vertrauens zwischen Ihnen und Ihrem Haustier wächst ständig und erreicht ein solches Ausmaß, dass Sie sich fühlen, als wären Sie zusammen wie ein einziges Wesen. Barrieren verschwinden völlig, weil man sich alles gegenseitig erlaubt. Das ist so süß!
Es gibt noch eine andere Möglichkeit für Haustierbesitzer. Das ist, wenn jeder von euch sein eigenes Leben weiterlebt. Daran sind nur sehr wenige Menschen interessiert.
Description de la peinture à l'huile
Description de la peinture à l'huile
Tous ceux qui ont un animal à la maison savent ce que je veux dire. Au fur et à mesure que le degré de confiance entre vous et votre animal augmente, il atteint un tel niveau que vous avez l'impression d'être ensemble comme un seul être. Les barrières disparaissent complètement car tout est permis à l'autre. C'est trop mignon !
Il pourrait y avoir une autre option pour les propriétaires d'animaux. C'est quand chacun de vous continue à vivre sa propre vie. Très peu de gens sont intéressés par ça.
Descrizione del dipinto ad olio
Descrizione del dipinto ad olio
Chiunque abbia un animale in casa sa cosa intendo. Man mano che il grado di fiducia tra voi e il vostro animale cresce costantemente, arriva a un livello tale che vi sentite come se foste insieme come un unico essere. Le barriere scompaiono completamente perché tutto è permesso l'uno all'altro. È così dolce!
Ci potrebbe essere un'altra opzione per i proprietari di animali domestici. È quando ognuno di voi continua a vivere la propria vita. Pochissime persone sono interessate a questo.
Delivery terms
Generally we deliver your orders free of charge. If however you choose to have a painting on a stretcher, we'll have to charge you. The corresponding cost you can see in the delivery cost section.
Once we get your order, you will receive a copy of the order to your specified email address.
As most of the items are in stock, we try to do our best to send you the painting within 2 or 3 days from the receipt of your order. As a rule you can expect to receive your order within 5-7 days. Should some sort of a delay occur, please allow up to 2 weeks for the parcel to reach you. Those cases are quite rare however.
Delivery costs
We've two options for you. Either we roll the artwork in a tube and ship it to you for free, or you receive the painting which is already placed onto the stretcher.
Please be advised that it takes 5 to 7 business days for artworks to be dispatched from Czech Republic.
You can see how Igor Shulman is packing rolled in a tube purchased paintings.
See how Igor Shulman is packaging a scratched painting to deliver customers.
Looking to order a custom artwork? Follow these steps to commission a piece from Igor Shulman artist
Here's how to order your custom piece:
Step 1: Submit a commission request
To get started, fill out the commission request form below. Once received, you and the artist will collaborate to develop an idea for the commission subject that aligns with your vision.
Step 2: Collaborate with the artist
Igor Shulman will reach out to you via email to discuss and clarify any unclear points in your commission request. You will have the opportunity to work closely with the artist throughout the entire process to ensure your complete satisfaction.
Step 3: Payment and delivery
The price of your commissioned artwork will depend on the size of the canvas. For example, a commission painting with dimensions of 100 x 100cm / 39.4 x 39.4in costs $3350 or 3000 euro. Please provide the required size to receive a final calculation. A 20% deposit is required to begin the project, with the remaining balance due upon completion.
If you have a specific vision in mind for an artwork, Igor Shulman can bring it to life through a commission.
Explore portfolio of commissioned artworks and discover the possibilities for your own custom piece. Click here to see examples.