1 Frozen Sea Bass
$11,800.00
Oil Painting 1 Frozen Sea Bass by Igor Shulman
Technical Specification
Size: 86.5 W x 39.7 H x 2 D in / 220 x 100 x 5 cm
Style: Urban and Pop
Subject: Animals and birds
Technique: Oil on Canvas
Framing details: Artwork rolled and sent in a tube, stretching and framing available on request
In stock
Description
Here it is, real 100% pop art — when everything is clear and the object, being depicted in the picture, is self-sufficient and valuable in itself. That is what many call art.
There are no additional conditions for this fish to become an art. Though it is frozen, it is beautiful in itself.
In any case, it seems to me so.
In order to make everything clear to everyone, I've written the name of the painting right on its front side.
I've heard an opinion that art is a secret, an understatement and generally a mystical thing. I agree with all of this. I'd just like to add that art is always different. Hallujah!!!
When one asks, why have I depicted a seabass, I'd reply — why not? Why should it be worse than any other object in the world?
This fish is very beautiful and quite authentic. Freezing only prolongs this beauty. I have made this fish and its beauty is eternal. Use it!
1 Frozen Sea Bass Oil Painting in Interiors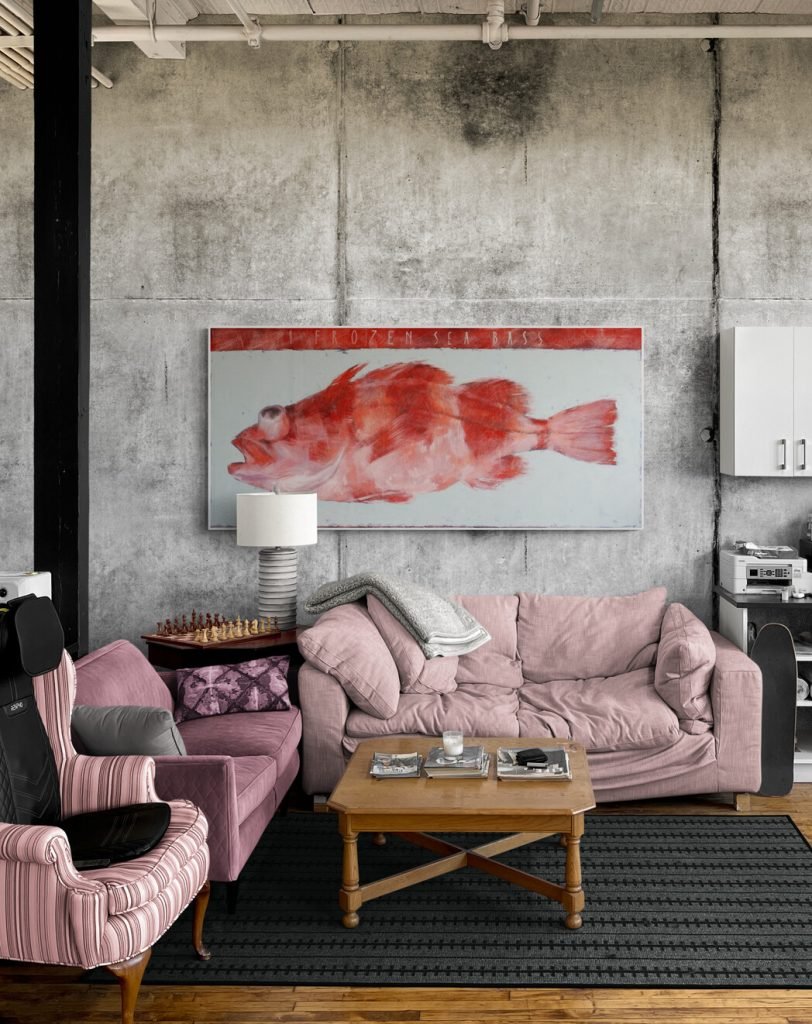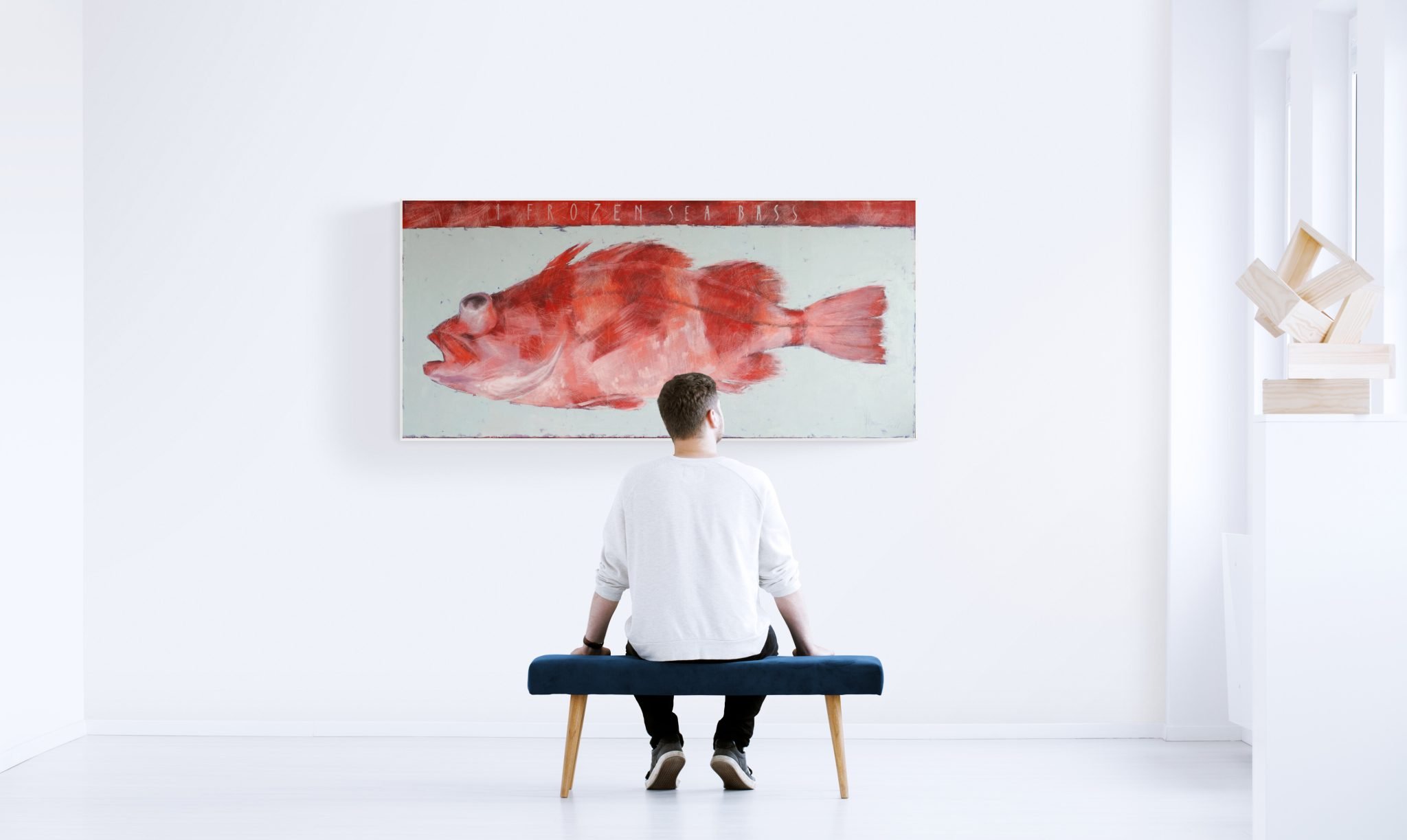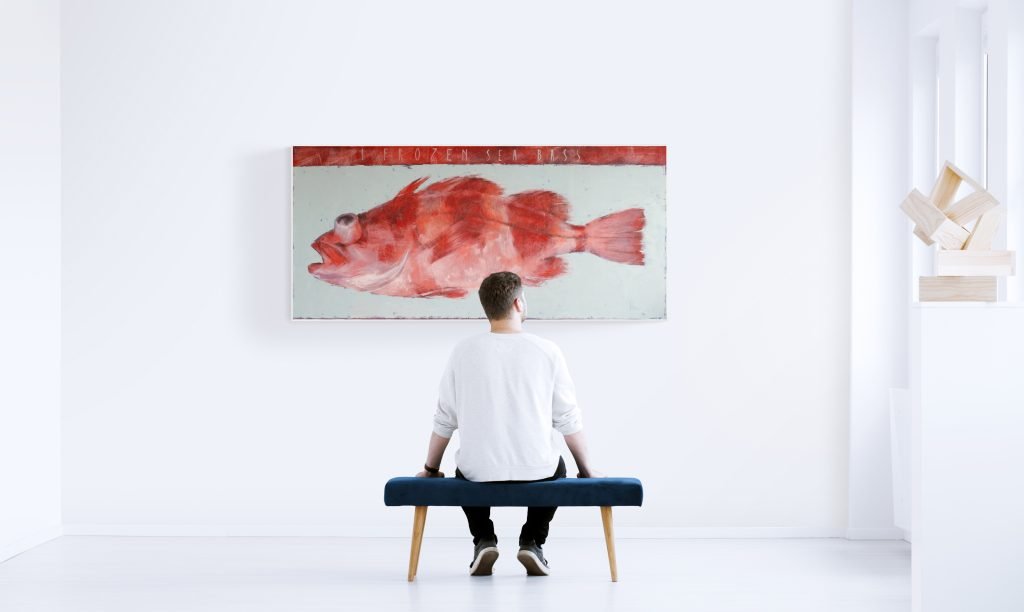 FAQ
About this painting

I painted this picture, like all my other paintings using completely traditional methods. With the help of oil paints, canvas and his hands. Everything is absolutely traditional and natural. I have been doing this work for more than 30 years and doing quality. This applies not only to the manufacture, but also to the packaging of finished paintings. Even with poor delivery, my packages reach the buyer safe and sound.
Delivery

This artwork will be packaged in a tube. Artworks are dispatched within 5 working days from Czechia. Each painting is accompanied by a certificate of origin, which I write out with my own hand.
Make an offer on this artwork

Just email me
Additional information
| | |
| --- | --- |
| Creation Year | 2021 |
| Styles | Urban and Pop |
| Subjects | Animals and birds |
Delivery terms
Generally we deliver your orders free of charge. If however you choose to have a painting on a stretcher, we'll have to charge you. The corresponding cost you can see in the delivery cost section.
Once we get your order, you will receive a copy of the order to your specified email address.
As most of the items are in stock, we try to do our best to send you the painting within 2 or 3 days from the receipt of your order. As a rule you can expect to receive your order within 5-7 days. Should some sort of a delay occur, please allow up to 2 weeks for the parcel to reach you. Those cases are quite rare however.
Delivery costs
We've two options for you. Either we roll the artwork in a tube and ship it to you for free, or you receive the painting which is already placed onto the stretcher.
Please be advised that it takes 5 to 7 business days for artworks to be dispatched from Czech Republic.
You can see how Igor Shulman is packing rolled in a tube purchased paintings.
See how Igor Shulman is packaging a scratched painting to deliver customers.
Looking to order a custom artwork? Follow these steps to commission a piece from Igor Shulman artist
Here's how to order your custom piece:
Step 1: Submit a commission request
To get started, fill out the commission request form below. Once received, you and the artist will collaborate to develop an idea for the commission subject that aligns with your vision.
Step 2: Collaborate with the artist
Igor Shulman will reach out to you via email to discuss and clarify any unclear points in your commission request. You will have the opportunity to work closely with the artist throughout the entire process to ensure your complete satisfaction.
Step 3: Payment and delivery
The price of your commissioned artwork will depend on the size of the canvas. For example, a commission painting with dimensions of 100 x 100cm / 39.4 x 39.4in costs $3350 or 3000 euro. Please provide the required size to receive a final calculation. A 20% deposit is required to begin the project, with the remaining balance due upon completion.
If you have a specific vision in mind for an artwork, Igor Shulman can bring it to life through a commission.
Explore portfolio of commissioned artworks and discover the possibilities for your own custom piece. Click here to see examples.
Canvas Printing Service
Discover a new dimension to Igor Shulman's artistry! Our canvas printing service unveils the masterpiece in your chosen space. Regardless of size, we transform his works onto canvas with precision and care.
Affordable Elegance
For only 900 euros or $1000 per square meter, you can own a timeless piece that captivates. Immerse yourself in the art that moves you, now as a tangible masterpiece.
Your Vision Realized
Have a specific artwork in mind? Let us bring your idea to life. Contact Igor Shulman to explore the possibilities and tailor the perfect printing solution for you.
Elevate Your Space
Turn a wall into a gallery, a room into a sanctuary. Elevate your surroundings with art that resonates, printed on canvas, and etched in emotion.
Experience the process with our Kissing Under the Bridge art canvas printing
Ready to transform your space? Send a request today to discuss your canvas printing needs and pricing options.