Igor Shulman Klassik International Interview by Laura Gomez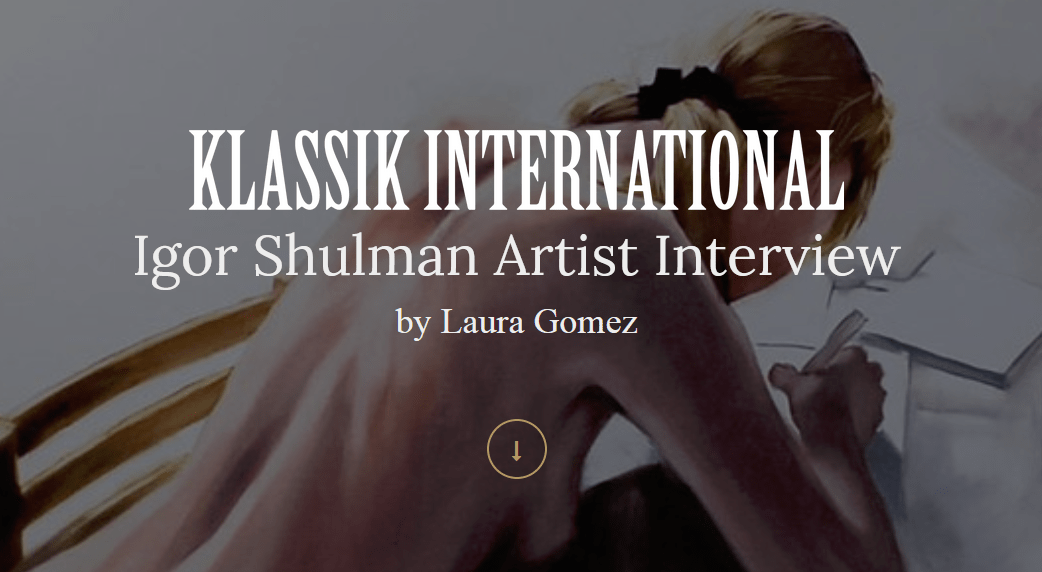 Igor Andrianov (date of birth – 29th of February, 1959) is better known as Shulman, the trade mark name with which he signs his artwork. He has exhibited in over 30 art shows. Russia, Czech, Sweden, France, and Holland are but a few of the countries his art works have been featured in galleries and exhibitions. His art is fond in, galleries, homes and offices in over 50 countries including Great Britain, Spain, Germany, USA, Canada, Italy, France, Belgium, Russia, Ukraine, Hungary, Australia, Austria, England, China, Japan, Bahrain, Mexico, New Zealand, Brazil, Costa Rica, and Czech.
Born on the banks of the Volga River in Russia's oldest town Kalinin (now Tver) in 1959. He graduated from the Art College, Venezianov.
The passion of life expresses itself though out his art. His life experiences of working as a dock hand, seaman, builder, truck driver, businessman all have influences on his artistic view point.
He has resided in Prague with his family for the last several years. He views Prague as the most inspirational city in Europe for artists.
Outstanding Russian painter Igor Shulman is Eastern Europe's most highly-acclaimed living figurative artist. He creates figurative works that portray figures from contemporary life in everyday scenarios.
All my life is creativity. Even in dream I draw the new pictures, I find new decisions, I think out a new reality.

It is difficult for me to prefer what either style or a direction. That is difficult to stop on what genre. All is interesting to me. In art for me there are no unknown zones or the closed doors. I can draw, paint or project, but from all I receive pleasure because that I do all, I do with all the heart.

I cannot live without my creativity of any day
Igor Shulman Artist Interview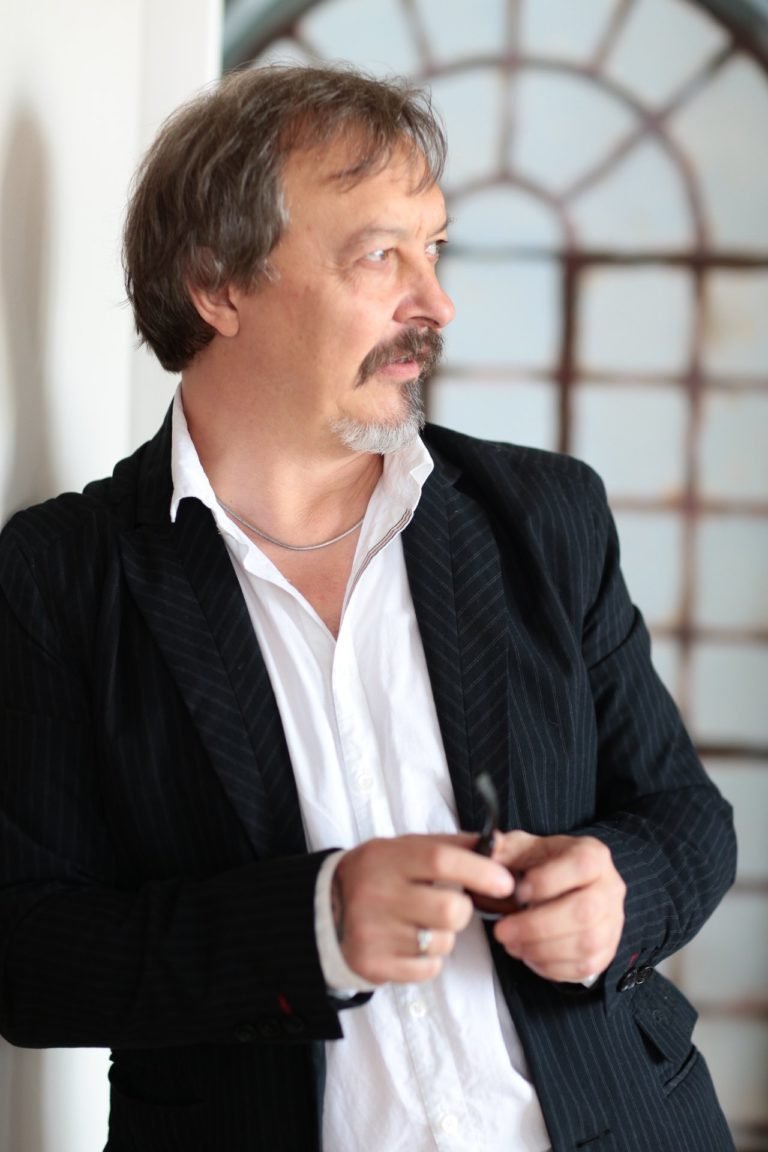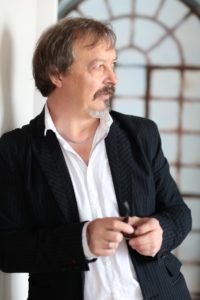 Name: Igor Shulman
Age: 59
Birthday: 28.02.1959
College: Art college (Venecianov), Tver, Russia
How would you define yourself as an artist? beginner, continuing
What experience of your life would you say that is reflected in your works of art .. I try to reflect only my positive experience. Sometimes it turns out.
Why are you an artist, and when did you first become one? As a child I loved to draw, because it was terribly cold outside. Then it was always cold. Since then, I draw. Rather from idleness and fear of the cold.
What art do you most identify with? Most often I come across my art, oddly enough. Then comes the art of artists that interest me. There are a lot of them.
What themes do you pursue? I am not limited to thematic frameworks. I do absolutely everything if I'm interested.
What inspires you to work? It can be anything. Other people's paintings, gentle look, music. It does not really matter. The main thing is to make it happen.
For how long have been in art? How did you start? Since the early childhood. It seems to me that I have already answered this question.
How would you define yourself as an artist? If power is meant, then I would define myself in the middle. If the direction of the movement is direct, then I am rather an artist who paints a figurative. An artist who loves to draw. Sometimes an illustrator.
Would you tell us some things about yourself? All the facts of my biography are well known. I have no secrets, at least those about which I can talk with unfamiliar people.)
What are you trying to communicate with your art? My communication with my art happens every day. I either do something new, or go back and redo the old. My communication is very close.
What art do you most identify with? With my.
And what is your personal aim as an artist? Learn to make good art.
Why do you do … What you do? Because I am interested in what I am doing. I paint pictures about people for people.
What does "being creative" mean to you? Search for new solutions for old problems.
Any shows, galleries, or publications where our readers can find your work?
I have more than 50 solo exhibitions around the world.Now my paintings can be found on Sachiart. and about 5 more online galleries. If someone wants to see my pictures live, then I can send you to the exact address. It all depends on which continent or country you are currently in. This does not mean that I have myself in every city and on every continent. But I have friendly galleries in Prague, Moscow, London, Berlin. About the rest of the place I do not know anything, or just do not remember. I have a bad memory.)))
How do you cultivate a collector base? No way !!!! I don't do it because I don't know HOW? I am sure that gallery owners, curators, art historians and all kinds of art dealers should be involved in this. The artist should only draw. Unfortunately, this is almost never the case.)
Which is your most cherished piece? Love.
If you had an exclusive collective exhibition with other artists work, who would you choose?
It depends on the range of artists with whom I will exhibit. More often, I exhibit personally.
Should art be funded? Why?
YES ! The artist should not be dependent on the results of sales of their own paintings. This is the only way true art appears. When an artist needs money, this is a real nightmare. Art ends and simple work begins. Craft! This is what kills art every day, 24 hours a day, always …
What famous artists have influenced you, and how?
Each famous artist influenced me in the period of training and the formation of his own underscore. They replaced each other, until they ran out at all. Now the artists are fascinated by the artists rarely and mostly they are not known to the general public.
What other interests do you have outside of art?
Almost all my free time I listen to lectures on YouTube. I study. My teachers are sometimes 2-3 times younger than me. And I like it the most. Of course, all the topics of study are somehow connected with art. Less and less I go fishing. I almost do not read books, I now listen to them. There is not enough time for authenticity.)
You seem to be very aware of the history of works. Where do you see films, photo exhibitions, art perfomances today?
I see this most often where I have been living for the last 20 years, in Prague. Sometimes I travel to neighboring countries for some significant exhibitions. But more and more I see it all on the net. Totally not enough time.
What do you see as the strengths of your pieces, visually or conceptually?
Sometimes it turns out to cope with color, sometimes with composition. But this does not mean that I am satisfied with my work.
What aspect of your work do you pay particular attention to?
Probably the composition. The relevance and modernity of my visual language is very important. It does not work yet …)
What Role does the artist have in society?
It depends on the country in which the artist lives or works. In our world there are very few places where the role of the artist corresponds to his purpose. The development of the concept of the relationship between the artist and society is at the very beginning. This is not interesting to anyone today, in fact. Only if you, or me.)
What is your most treasured memory?
This should not be discussed publicly.
What for you is the most enjoyable part of your art?
The best part is when it turns out even better than expected. This is a real mystic. It is a pity that this does not happen often.
Some short questions now:
More colours: On the contrary. Monochrome will save the world!)
Textures: All in moderation.
Define your art: This is a very difficult question. I am different. When I do work on order, I am alone. When I invent and do something for myself, I am completely different. These are different people. But in both cases, it is the most honest people.
Prizes: I do not participate in contests and competitions. I get prizes only from life as good people, my family.)
Art Fairs: Before this was too much. Now I almost do not participate in this. Last: Berliner 2017 list. Full list in my exhibitions.
Museums: love!
Cities: Amsterdam- best!)
Travels: I like it.
Artists: Dont like…
Music: I can not imagine how I would live without it. Just moving around.
You seem to be very aware of the history of works. Where do you see films, photo exhibitions, art perfomances today? Rarely in the living museums and theaters. Most often in the network.
How would your life change if you were no longer allowed to create art? I hope that this will never happen. No one can climb into my head and control what I create. The fact that I cannot draw art does not mean that I cannot create it within myself. This is disgusting, but not fatal.
What do you think about the art community and market? The art community and the market are largely formed by art dealers of various names. Accordingly, this takes into account the interests of the art dealer only. The artist is almost always left out of the process. Unfortunately, this is so.
Which of your projects has given you the most satisfaction? Of course, the last one!))) I thought it was just me that every next job was always better than the previous one. Not. This is all artists. The last child is a favorite.)
Who are the writer's you admire the most? Illustrators today. No one, but all together.
What about architects and designers?Let them live. Without them, life would be gloomy and sad.)
What else are you working on at the moment? Next projects? I am trying to connect the illustration with painting. And all this fertilize kaligrafii. Old idiot.)))
Share something you would like the world to know about you? All that I have are my paintings and my drawings. I am open to communication. I am open to the world today more than ever. And the world treats me and my work with gratitude. Thank!
Define "Klassik International" for the audience? Outstanding!
Klassikmagazine.com November 24, 2018 by Laura Gomez
Collection of artworks