Jeden dokonalý záber. Igor Shulman Interview to Dom&Bývanie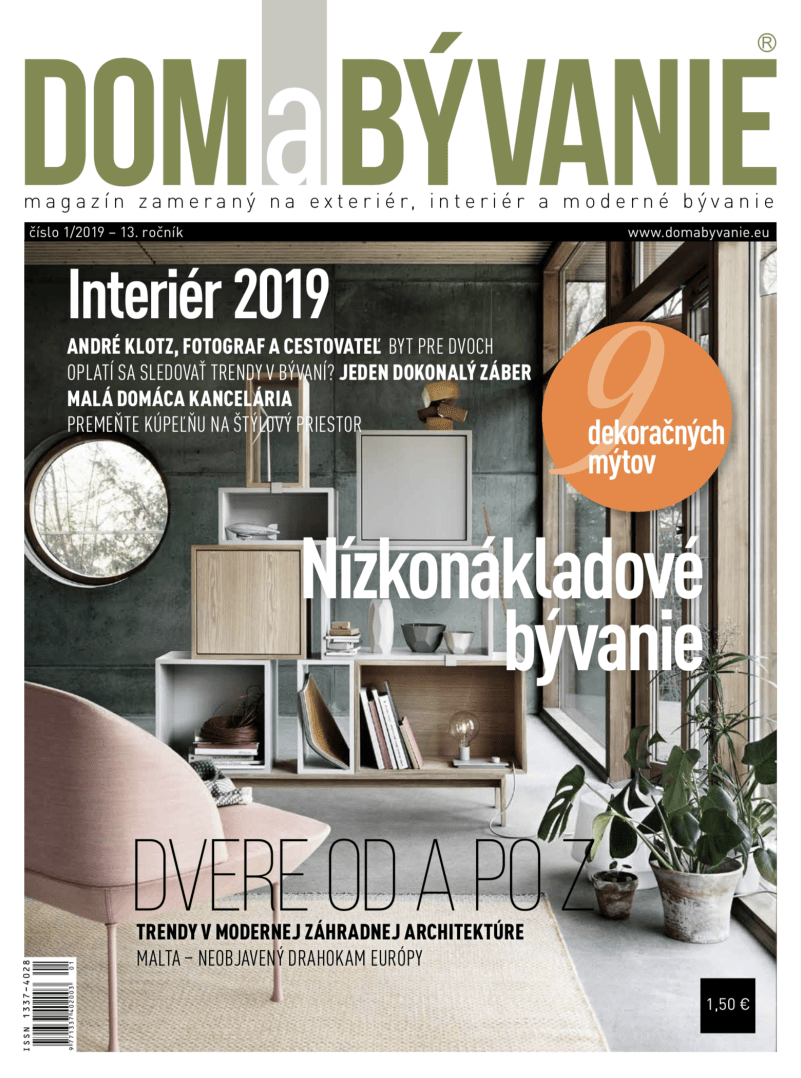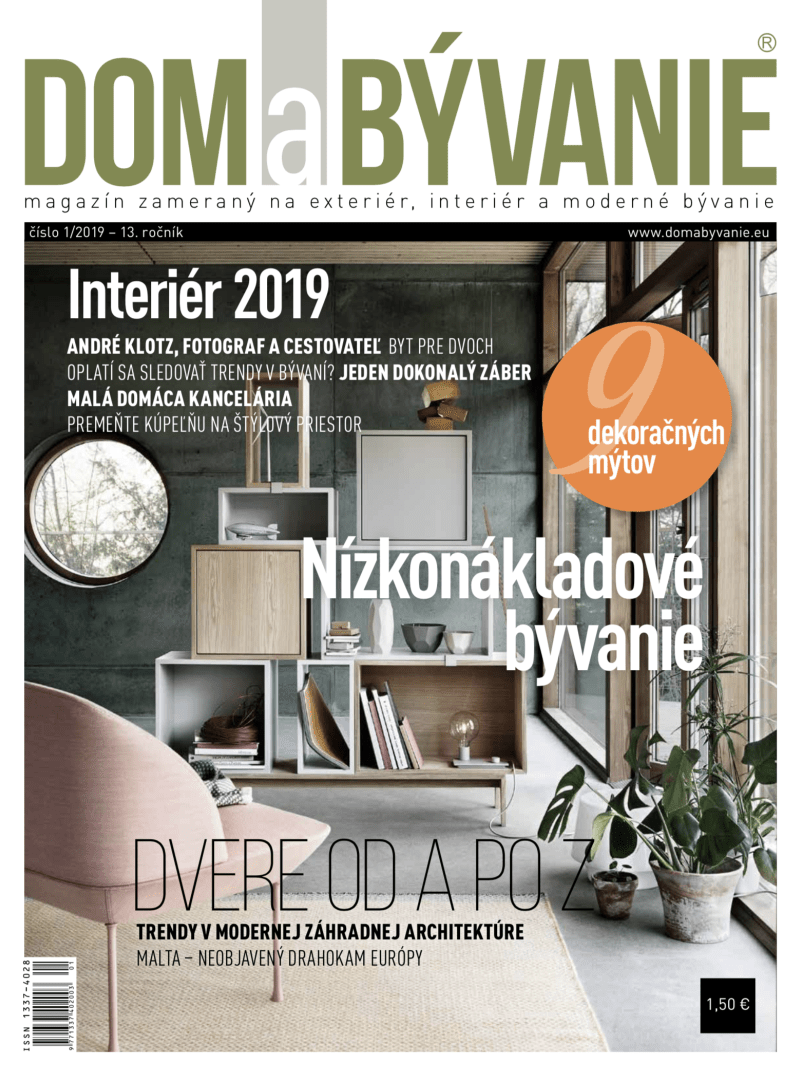 Igor Shulman je autorom pôsobivých malieb s autentickým rukopisom. maliar svojimi dielami navodzuje zvláštnu atmosféru zachytávania reality, pričom jeho obrazy pôsobia ako magické námety na dokonalý príbeh.
Igor Shulman pri svojich dielach na jednej strane siaha po všedných prvkoch reality, ktoré však zasadzuje do kontrastných motívov, na druhej strane zvolené farebné prevedenie obrazov navodzuje atmosféru tajomna a podčiarkuje celkové umelecké vyznenie.
Rozhovor s Igorom Shulmanom
Každý umelec potrebuje k svojej práci inšpiráciu a námety. Kde ich hľadáte vy? Som inšpirovaný mojimi kolegami umelcami, minulosťou a súčasnosťou. Ak pracujem na zaujímavom diele, tak sa to stane mojou drogou. Aj preto navštevujem obrovské množstvo výstav a múzeí. Som inšpirovaný ľuďmi a ich postojom ku mne. Ak mám pocit, že človek má záujem o moju prácu, posunie ma to správnym
smerom.
Ako máte rozvrhnutý pracovný čas? Ako a koľ ko sa venujete tvorbe?
Nemám presný rozvrh. Závisí to aj od nálady a množstva svetla. V zime je málo svetla a mám veľmi krátky pracovný deň. V zime sú to najviac štyri hodiny. V lete je svetla oveľa viac a môj pracovný deň môže trvať aj desať hodín, aj keď to je veľmi zriedkavé. V podstate šesť až osem hodín denne.
Vaša tvorba je rozmanitá, aj keď nesie v sebe veľa podobných znakov. Ako by ste ju charakterizovali vy ako ich autor?
Robím rôzne diela, ale základom pre všetky z nich je ľahkosť a zrozumiteľnosť. Pokúšam sa vyzerať zdržanlivo a monochromaticky. Je škoda, že to nie je vždy možné. Usilujem sa o transparentnosť a stručnosť akvarelu. Niektoré nákresy a Wgrafický charakter sú mi tiež vlastné.
Dokážete si približne predstaviť Vaše publikum, prípadne záujemcov o Vaše diela?
Dokážem, ale len veľmi približne. Nikdy som však nad tým veľmi nepremýšľal. Robím prácu na objednávku, ale moji zákazníci sú úplne iní ľudia. Spomínam si na 16-ročné dievča a aj na staršieho, asi 60-ročného pána. Ťažko povedať…
Máte svoje obľúbené diela, prípadne aj svoje menej obľúbené?
Samozrejme, že mám diela, ktoré sa mi páčia viac alebo menej, ale dúfam, že moja najlepšia práca je ešte predo mnou. Medzi uverejnenými dielami sú aj moje obľúbené.
Farebné akcenty v maliarových dielach sú menej časté, avšak tiež sú volené skôr tak, aby nerušili a súzneli s celkovým výjavom so zachovaním určitej nálady obrazu. "Robím rôzne diela, ale základom pre všetky z nich je ľahkosť a zrozumiteľnosť. Pokúšam sa vyzerať zdržanlivo a monochromaticky. Je škoda, že to nie je vždy možné," opisuje svoju tvorbu Igor Shulman.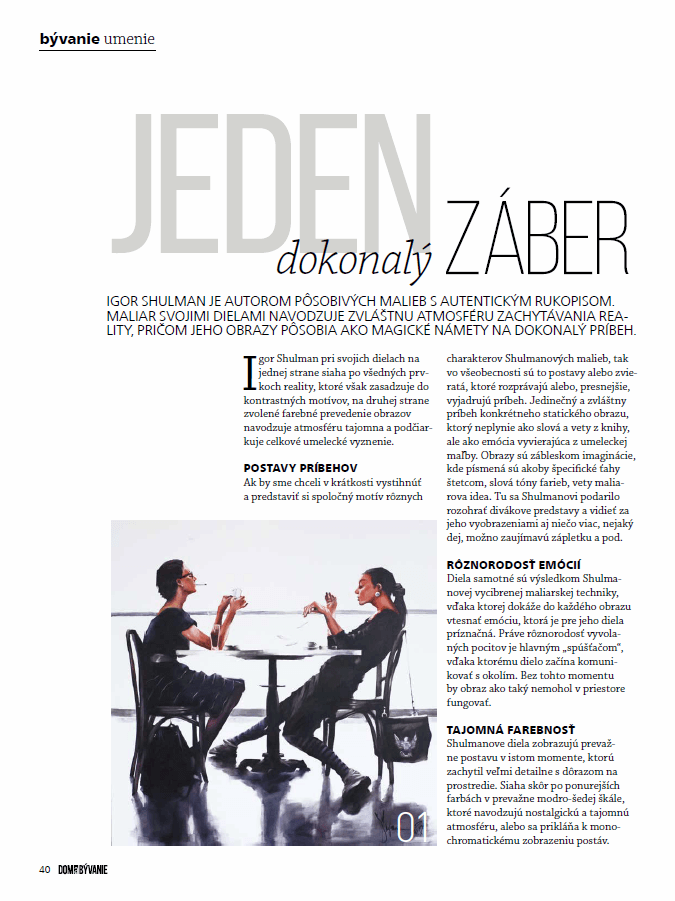 Postavy príbehov
Ak by sme chceli v krátkosti vystihnúť a predstaviť si spoločný motív rôznych charakterov Shulmanových malieb, tak vo všeobecnosti sú to postavy alebo zvieratá,ktoré rozprávajú alebo, presnejšie, vyjadrujú príbeh. Jedinečný a zvláštny príbeh konkrétneho statického obrazu, ktorý neplynie ako slová a vety z knihy, ale ako emócia vyvierajúca z umeleckej maľby. Obrazy sú zábleskom imaginácie, kde písmená sú akoby špecifické ťahy štetcom, slová tóny farieb, vety maliarova idea. Tu sa Shulmanovi podarilo rozohrať divákove predstavy a vidieť za jeho vyobrazeniami aj niečo viac, nejaký dej, možno zaujímavú zápletku a pod.
Rôznorodosť emócií
Diela samotné sú výsledkom Shulmanovej vycibrenej maliarskej techniky, vďaka ktorej dokáže do každého obrazu vtesnať emóciu, ktorá je pre jeho diela príznačná. Práve rôznorodosť vyvolaných pocitov je hlavným "spúšťačom", vďaka ktorému dielo začína komunikovať s okolím. Bez tohto momentu by obraz ako taký nemohol v priestore fungovať.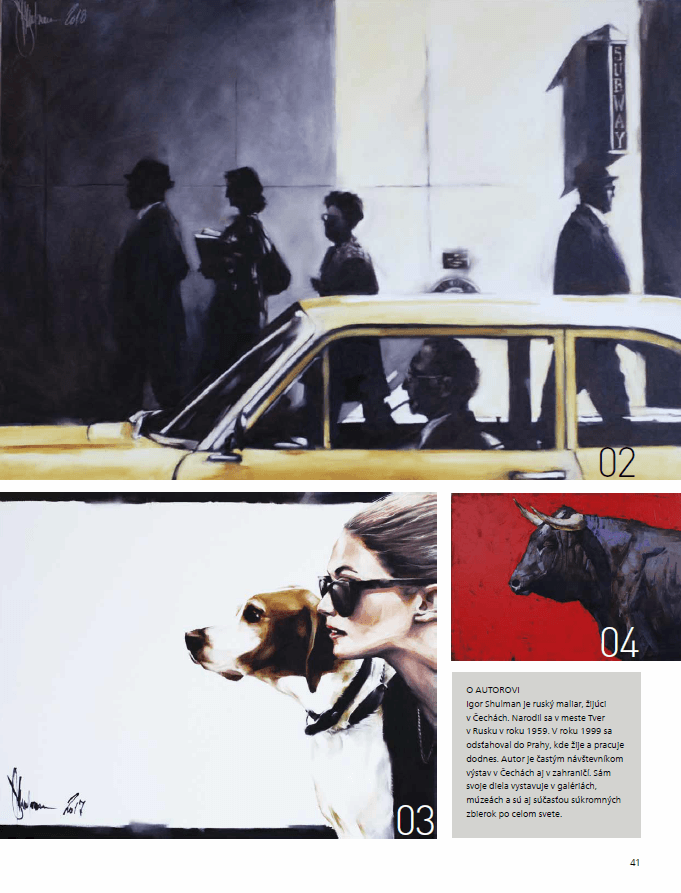 Kinematografická angažovanosť
Každá zo Shulmanových malieb akoby predstavovala jeden dokonalý záber, v ktorom je povedané viac ako možno v trojhodinovej romantickej dráme. Táto kinematografická angažovanosť robí umelcove diela atraktívnymi a pozorovateľa vťahujú ich do vlastného filmu, do vnútorného sveta kohokoľvek z nás.
Tajomná farebnosť
Shulmanove diela zobrazujú prevažne postavu v istom momente, ktorú zachytil veľmi detailne s dôrazom na prostredie. Siaha skôr po ponurejších farbách v prevažne modro-šedej škále, ktoré navodzujú nostalgickú a tajomnú atmosféru, alebo sa prikláňa k monochromatickému zobrazeniu postáv.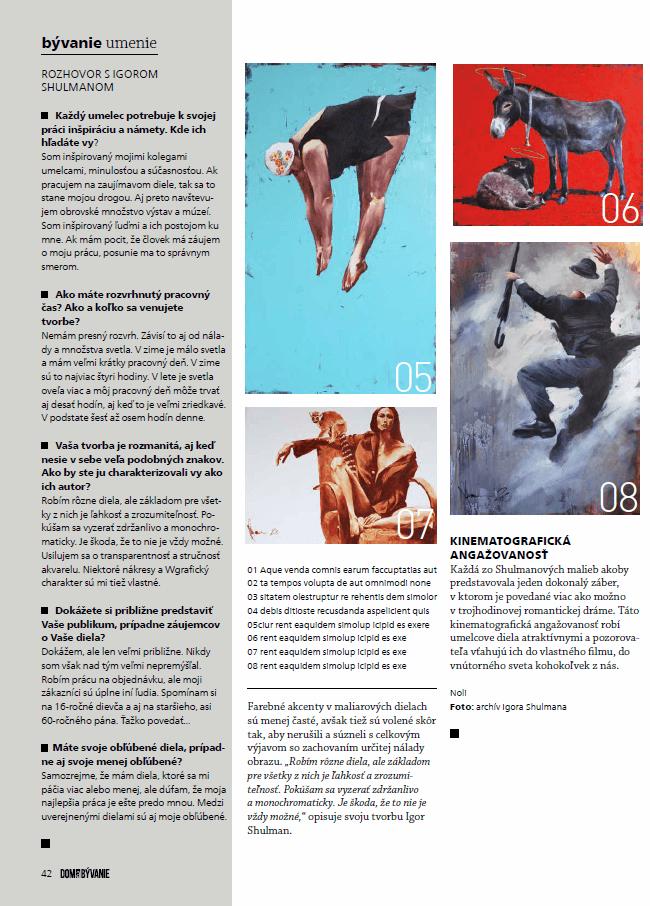 Visit Dom & Bývanie domabyvanie.eu